Think of the evolution of the soybean crop over the past 30 years. Research and innovation have driven higher yielding genetics that are protected by increasingly sophisticated crop protection tools. However, a changing weed spectrum, new insects, and intensifying disease pressure means that high yields and top-quality grades are never guaranteed.
Let our team of crop scientists sift through the latest research so you can keep your investment safe. Our sole mission is to protect your crop whether it's herbicide-tolerant or IP soybeans. We're testing new products, crunching data, and analyzing on-farm, real-world experience from producers to fine-tune recommendations so that your soybeans reach their full yield potential.
Explore the articles below and please contact us if you have any more questions about protecting your soybeans or maximizing your crop's potential. The FMC AgHotline is always open at 1-833-362-7722, or aghotline@fmc.com.
Pre-Seed Herbicide Solutions for Soybeans

When you apply pre-emergent Authority® 480 herbicide, it's because you're after kochia and you mean business. But it's not like the other weeds can just jump out of the way. Yes, Authority® 480 herbicide controls kochia with powerful, extended Group 14 activity to protect soybeans, field peas, flax, and other crops. It also targets redroot pigweed, lamb's-quarters, cleavers and wild buckwheat.

Want to give your crops extended 2-in-1 pre-emergent protection? Take control from the start with Authority® Supreme – a herbicide using dual modes of action to dominate even the toughest hard-to-control weeds. Authority® Supreme herbicide is the go-to extended control solution for soybeans, chickpeas, and field peas.
ABOUT Authority® Supreme 

 

ABOUT Authority® 480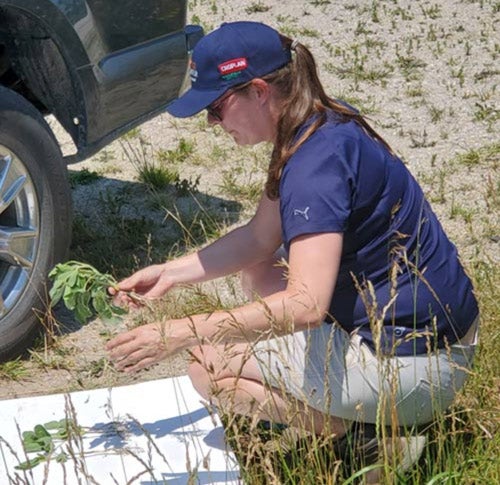 Meet one of our crop scientists, Allison Hayward, field development representative at our Breslau, ON research station. Allison is also the main curator of FMC's soybean content.
Allison Hayward didn't grow up on a farm but she's covered a lot of ground in ag since graduating. She's really passionate about the industry – something that shows when you talk shop with her.
Interesting fact: Allison has a PhD in plant physiology and did her post-doc work on Christmas trees – working with breeding and hormones to keep needles on the tree longer. She's also worked in the fertilizer industry. Her heart is in R&D and she spends her summers in the field and in the lab in Breslau.
Allison is passionate about delivering the newest, best products to Canadian growers so that the industry remains competitive internationally. She's big on food security and environmental stewardship.
Give her a follow on Twitter @AlliHayward.
Learn more about the long-lasting grassy and broadleaf weed control of Authority® Supreme herbicide.