FMC Gives
Read more about the corporate philanthropy projects that FMC has undertaken.

We protect crops so Canadian producers can grow food that feeds the world. That's our passion and our mission.
Most often you see us scouting for pests in the field, presenting research, or connecting at an event. But in our downtime, you'll catch us lacing up our skates to hit the ice as a coach, lifting a box at a foodbank, or crossing the finish line in a fundraising run.
We're not just passionate about helping farmers grow high-yielding, healthy crops, we're passionate about growing communities too. We stand shoulder to shoulder with you as we roll up our sleeves and give back to the communities in which we live.
Our favourite charities are ones that make a local impact – either in the agriculture industry or in the cities and towns and villages in which we live. We rely on our FMC team and our retail and farmer partners to show us which organizations are doing the best work. Over the past year we've supported everything from local rink renovations to community waterpark building projects to funding crucial air ambulance service in Western Canada.
Here are some of the highlights.
---
$37,000 sponsorship of CASA BeGrainSafe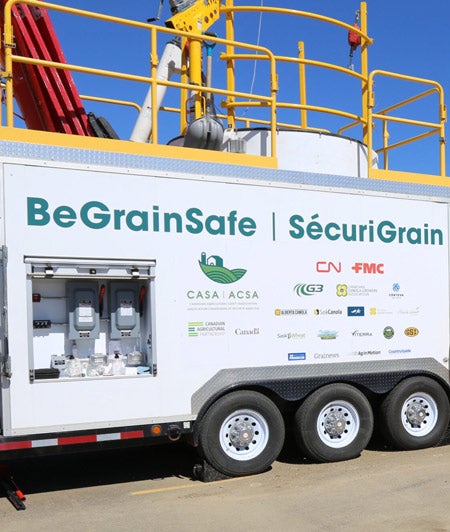 A silo full of grain can be dangerous, trapping someone who falls in. Thanks in part to funding from FMC Canada, more first responders and farmers who get an urgent call for help will know how to save a life.
This is the fourth year that FMC is a major sponsor of the Canadian Agricultural Safety Association's BeGrainSafe mobile training and demonstration unit. The unit travels throughout Canada to rural communities. CASA staff use it to carry out prevention education and grain rescue training for firefighters and producers. This year we've gone beyond our regular funding to help CASA build awareness of the mobile training unit and their online and virtual training sessions.
We talk a lot about safety at FMC. Our most important goal each day is that everyone gets home safe. Working with CASA on this important program is a natural fit.
For more information about the Canadian Agricultural Safety Association's BeGrainSafe program, visit casa-acsa.ca/begrainsafe.
---
We have a big heart for the communities in which we work – the neighbourhoods, cities and small towns that we call home. And we believe the people most equipped to identify the organizations and charities best serving our communities are our FMC teammates on the ground.
This November and straight through the giving season, we're doubling any donation our teammates make to a local charity up to $1,000. All FMC staff are eligible.
We have a fun team and we've made generosity a core part of our culture. It's not unusual for friendly wagers and internal team rivalries to generate even more donations going to worthy charities.
Big Brothers Big Sisters is an important organization with chapters in towns and cities across Canada. Some kids don't have the best home situations. They're stuck there, especially with all the isolation that COVID-19 lockdowns caused over the past year. It's important for them to have someone to talk to and confide in. Big Brothers Big Sisters provides that safe community.
---
Pass the can
This isn't the first time we've matched donations made by our team. In spring 2020, our teammates donated their own money to local foodbanks in an initiative we called, "Pass the can." FMC matched. Over $20,000 was donated.
---
FMC Clean Fields Community Yields
Since 2020, we've donated to 100 community projects across Western Canada. Pools, libraries, 4-H clubs… and STARS… have shared over $300,000 in donations to projects chosen by local retailers.
FMC Clean Fields Community Yields is a team effort involving over 200 agriculture retailers and thousands of farmers. In the fall, our retailer partners choose a local organization they want to support. Like us, they have deep roots in their communities, and they know who needs help. We donate money to the organization chosen by each retailer based on the number of acres of eligible FMC fall herbicides sold.
Learn more about the FMC Clean Fields Community Yields program here.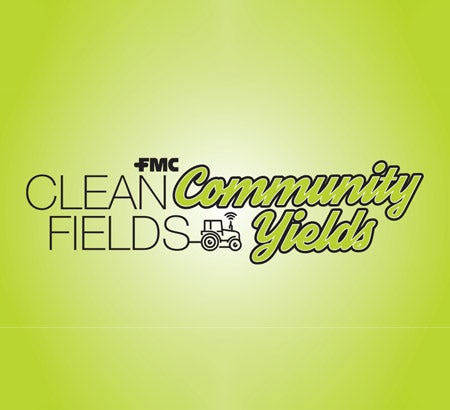 "Dear Carmen Lowe-Wassermann and FMC Clean Fields Community Yields, On behalf of the Redvers Library, we would like to say thank you for your very generous donation! This donation will help us purchase supplies and continue to run programs for all ages! We could not do what we do without the support of the community, so we greatly thank you!"

--- Redvers Public Library, Redvers, SK
---
The Do More Agriculture Foundation
In agriculture, there can be a tendency to think we need to be invincible. But we know we're not.
The Do More Agriculture Foundation is a not-for-profit organization focusing on mental health in agriculture across Canada. They have educated over 1,000 producers in 60 communities and certified almost 500 individuals in mental health first aid. They know that the key to good mental health is to "Talk more. Ask more. And listen more."
We provide donations to this foundation. We also pitch in with fundraising initiatives that supports this much needed program.