Problem: Multi-herbicide resistant waterhemp populations are showing up across Southern Ontario. Populations of this problem weed have recently shown Group 14 herbicide resistance.
Solution: Though there are populations of waterhemp with Group 14 resistance, Group 14 herbicides that are applied prior to planting/crop emergence (PRE) are still effective in controlling waterhemp.
WHAT THE RESEARCH SAYS
Waterhemp is an annual broadleaf weed and a member of the Amaranth (pigweed) family. The weed is dioecious, having separate male and female plants, allowing genes to spread rapidly throughout the population, which contributes to herbicide resistance within the species. Waterhemp emerges throughout the growing season (from May to October) and the average plant will produce 300,000 seeds each. Seeds are small and easily transported by wind, water, and wildlife.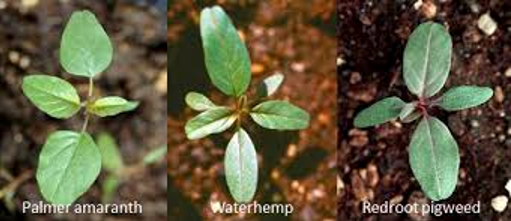 Populations of waterhemp in Ontario have been confirmed to be resistant to Group 2 (ALS inhibitors), Group 9 (Glyphosate), and Group 5 (PSII inhibitors) herbicides. In 2017, populations resistant to Group 14 (PPO inhibitors) were also discovered. Populations resistant to all 4 of these groups have been found in Bruce, Essex, Chatham-Kent, Haldimand, Huron, Lambton, and Middlesex counties. This 4-way resistance makes managing the problem weed increasingly difficult.
There are still control options for growers facing waterhemp in their fields. Group 14 soil-applied PRE herbicides are still effective in controlling Group 14 resistant waterhemp. Currently, waterhemp is only resistant to Group 14's when applied POST. Weed size and sensitivity of resistant weeds are correlated. Early herbicide application can improve control of resistant weeds. PRE's are applied while the weed is small and still emerging, increasing the effectiveness of the herbicide. It has also been hypothesized that a family of Group 14's often applied POST were involved in the selection of Group 14 resistant waterhemp. Other Group 14 families applied PRE remain effective in controlling resistant waterhemp. While most populations throughout Ontario are Group 9 and Group 2 resistant, Group 14 resistance is less wide-spread.
Waterhemp grows rapidly and early season control use of PRE residual herbicides is important to control the weed before it grows too large and is harder to eliminate. Canopy closure is key to controlling later emerged plants. A reduction in sunlight irradiation also decreases waterhemp growth efficiency.
ARTICLE AUTHORED BY: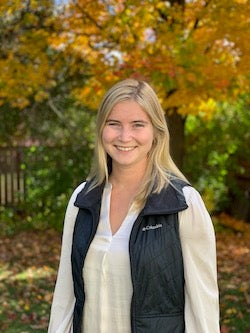 Emily Duenk
Research Technician Intern
2020 – B.Sc. in Agriculture – University of Guelph
Emily is a recent graduate of the University of Guelph where she received her Bachelor of Science in Agriculture, majoring in Crop Science. She grew up outside of Ilderton, Ontario on her family's farm where they cash crop and raise beef cattle. Emily enjoys showing beef cattle and has her own small herd of cows. During her undergrad, Emily became interested in weed science, competing on the university Weeds Team, and plans to complete her master's degree at the U of G Ridgetown campus, studying herbicide resistant weeds.
LEARN MORE ABOUT WEED MANAGEMENT OF SOYBEANS
References
Benoit, L., Hedges, B., Schryver, M., Soltani, N., Hooker, D., Robinson, D., Laforest, M., Soufaine, B., Tranel, P., Giacomini, D., Sikkema, P. 2018. Occurrence and distribution of waterhemp (Amaranthus tuberculatus var. rudis) from Ontario and Quebec resistant to herbicides spanning four modes of action and control using HPPD-inhibiting herbicides. Proceedings Canadian Weed Science Society.
 R. Joseph Wuerffel, Julie M. Young, Joseph L. Matthews, & Bryan G. Young. (2015). Characterization of PPO-Inhibitor–Resistant Waterhemp (Amaranthus tuberculatus) Response to Soil-Applied PPO-Inhibiting Herbicides. Weed Science, 63(2), 511–521. https://doi.org/10.1614/WS-D-14-00108.1
Falk, J., Shoup, D., Al-khatib, K. and Peterson, D., 2006. Protox resistant common waterhemp (Amaranthus rudis) response to herbicides applied at different growth stages. Weed Sci. 54: 793-799.