WESTERN CANADA ONLY
Get cash back on cutworm, flea beetle — and even grasshopper and bertha armyworm— control when you purchase both Pounce® 384 EC insecticide and Coragen® or Coragen® MaX insecticide in Western Canada.
Effective flea beetle control in canola and cutworm control in canola, cereals, corn, flax, lentils, peas, potatoes, sugar beets and sunflowers.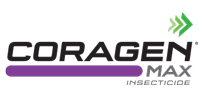 Coragen® MaX insecticide is the new 3X more concentrated formulation of Coragen® insecticide. Just one 2-litre jug of Coragen MaX insecticide covers an equal number of acres as the previous 6L jug of Coragen insecticide, yet still provides the same powerful performance for extended control of grasshoppers, diamondback moth, bertha armyworms, cutworms and others, with minimal impact on many important beneficial insects and pollinators*.
When it comes to insect control, there's what you know and there's what you don't know. You know insects are coming. You don't always know which type, how bad or exactly when. Being locked into ONE insect control solution isn't always helpful.
 
the 2022 What's Bugging You? Program HAS YOU COVERED 
 
WHEN YOU BUY TWO 10L JUGS OR MORE OF POUNCE 384EC INSECTICIDE, YOU WILL RECEIVE A $100/JUG REBATE ON ANY AND ALL OF YOUR CORAGEN OR CORAGEN MAX INSECTICIDE PURCHASED.

That's the savings.  The flexibility comes in how you use your Pounce 384EC insecticide and Coragen or Coragen MaX insecticide.
Cutworms and flea beetles bugging you?  Apply both Pounce 384EC insecticide and Coragen or Coragen MaX insecticide on the same acres for a powerful knockdown and residual defence.
 

Flea beetles (only) bugging you?  Apply Pounce 384EC insecticide on its own and know that you're covered with rebate "insurance" should you need Coragen or Coragen MaX insecticide for later season bugs like grasshoppers or bertha armyworm.
 

Cutworms (only) bugging you? Coragen or Coragen MaX insecticide can be applied any time of the day or night.  It controls hatching insects all the way through to adult stages and as a bonus, delivers superior residual activity.
 

Late season pests bugging you?  When you're in the program, we've got you covered for later season pests that might hop on over.
 
This timing and rate flexibility comes from having two effective, complementary but separate products in Pounce 384EC insecticide and Coragen or Coragen MaX insecticide. You can't do this with the co-formulated products that are out there.
Ask your retailer today about a great solution for reliable, flexible insect control.
*When applied at label rates. In line with Integrated Pest Management and Good Agricultural Practices, insecticide applications should be made when pollinators are not foraging to avoid unnecessary exposure.