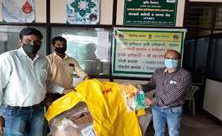 Mishandling of pesticides has been a long-standing problem in Maharashtra. Year 2017 in particular was catastrophic as Yavatmal and adjoining districts witnessed death of 30 farmers & farm workers due to mishandling of crop protection products. Maharashtra Agriculture Department since then has embarked on a continued awareness drive on safe use of pesticides in collaboration with various agrochemical companies.
We, at FMC drive Stewardship as one of our core responsibilities at all farmer touchpoints. In 2018 & 2019, FMC in coordination with department of agriculture created massive awareness on this issue in Chandrapur district. This year FMC has been appointed as nodal company for Akola District to drive pesticides safety awareness programs for farmers.
In collaboration with Agriculture department, Health Department & KVK's we're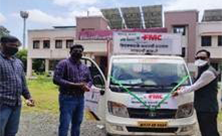 running various campaigns on the subject. Van campaigns are being executed in close coordination with District and Taluka level officers to ensure high effectiveness. The first Van campaign was inaugurated by District Collector of Akola Hon'ble Mr. Jitendra Papadkar himself.
In coordination with ATMA (Agriculture Technology Management Agency), we're distributing PPE kits also to thousands of farmers in not just Akola district, but 4 other adjoining districts also. Each kit contains an Apron, Mask, Eyes Protective Gear and Gloves. Van campaigns are being utilized to conduct limited group farmer meetings and for training on the on the use of the PPE kits and its importance. The TAOs (Taluka Agriculture Officers) have also participated in our drive and educated farmers & farm workers on safe use of pesticides on various Crops.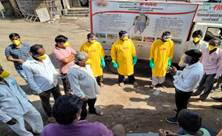 So far, we have reached over 5000 farmers and farm workers in 115 villages under this campaign. We're committed to expand the reach of our campaign and working closely with state authorities to further the awareness and ensure safe use of crop protection products.