MUMBAI, 31 August, 2023: FMC India, a pioneer in agricultural sciences, today announced the launch of its latest product, ENTAZIATM biofungicide, a revolutionary biological crop protection product formulated with Bacillus subtilis. This cutting-edge solution provides farmers with a powerful and sustainable tool to protect their crops from fungi while maintaining environmental integrity.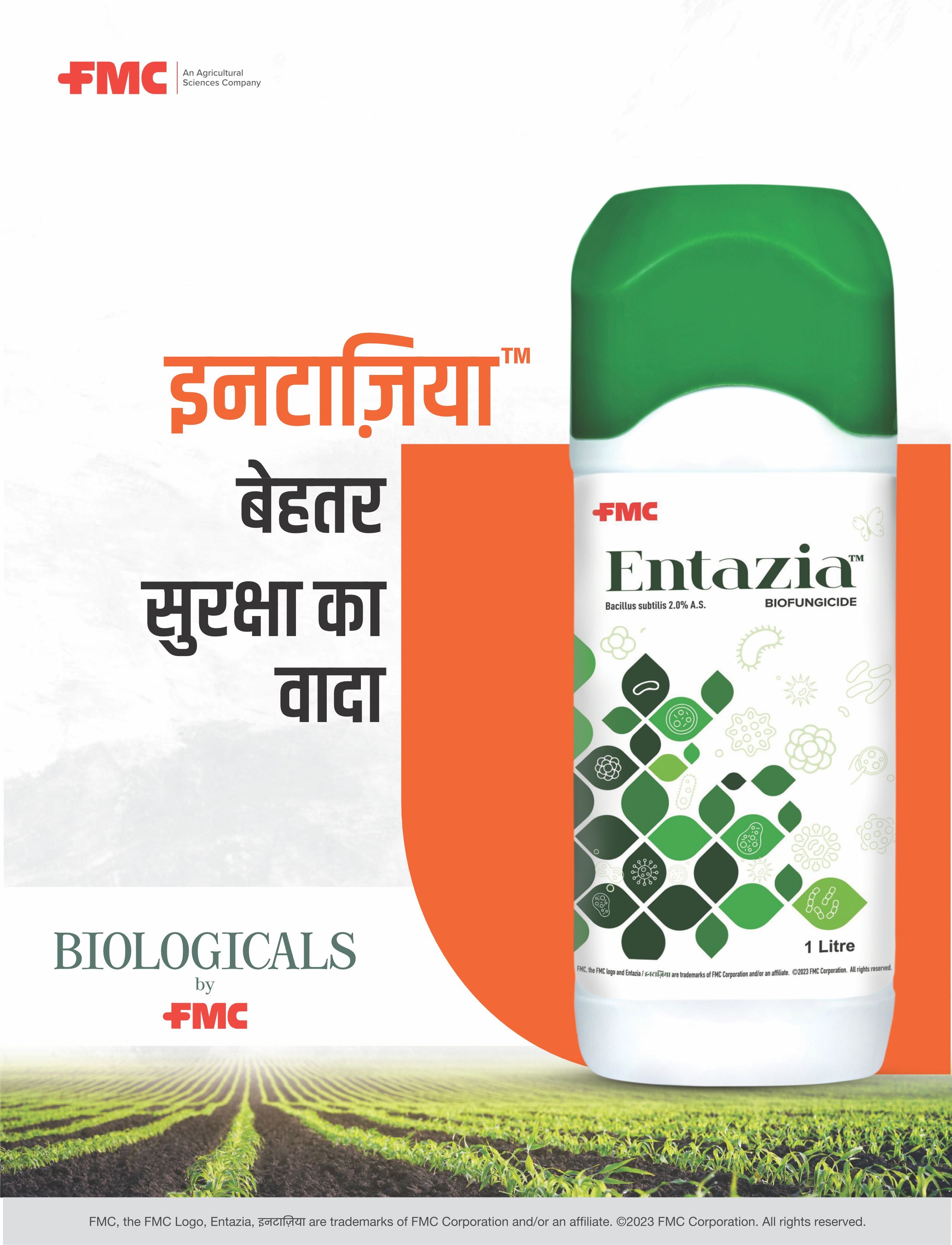 ENTAZIATM biofungicide marks a significant stride forward in FMC India's mission to transform agriculture and address the evolving needs of farmers with biological solutions. This innovative product leverages the natural capabilities of Bacillus subtilis to control bacterial leaf blight, one of the most serious diseases of rice. By activating the crop's defense system against plant pathogens, ENTAZIATM biofungicide acts to prevent and control bacterial leaf blight, while staying harmless to natural predators and parasites.
The biological product promotes natural pest defense by utilizing the naturally occurring Bacillus subtilis to establish a robust line of defense against bacterial leaf blight. By fostering a healthy plant microbiome, it bolsters plants' resilience to stress factors and contributes to overall growth and vigor. ENTAZIATM biofungicide can be applied in an integrated pest management program with FMC's biostimulants and synthetic fungicides for additional plant benefits.
"FMC takes pride in delivering a crop protection solution that embodies our dedication to sustainable agriculture. ENTAZIATM biofungicide exemplifies our resolve to provide farmers with tools that not only ensure their productivity but also contribute to a greener, more balanced agricultural ecosystem," said Ravi Annavarapu, FMC India President. "FMC India remains steadfast in our pursuit of excellence and innovation, and we are confident that this new product will contribute to the advancement and development of biological solutions within India's agricultural landscape."
ENTAZIATM biofungicide's launch underscores FMC India's reputation as a thought leader in agricultural sciences, consistently pushing boundaries to address the evolving challenges faced by farmers. The company says it will continue to promote the use of innovative, safe and sustainable solutions which complement its world-class synthetic solutions.
About FMC
FMC Corporation is a global agricultural sciences company dedicated to helping growers produce food, feed, fibre, and fuel for an expanding world population while adapting to a changing environment. FMC's innovative crop protection solutions – including biologicals, crop nutrition, digital and precision agriculture – enable growers, crop advisers and turf and pest management professionals to address their toughest challenges economically while protecting the environment. With approximately 6,600 employees at more than one hundred sites worldwide, FMC is committed to discovering new herbicide, insecticide and fungicide active ingredients, product formulations and pioneering technologies that are consistently better for the planet. Visit fmc.com and ag.fmc.com/in/en to learn more and follow FMC India on Facebook® and YouTube®.
ENTAZIA is a trademark of FMC Corporation and/or an affiliate. Always read and follow label directions.