National, June 26, 2023: Mark Douglas, president and chief executive officer of FMC Corporation, met honorable Prime Minister Narendra Modi at the India - U.S. Innovation Handshake, the technology roundtable hosted at the White House in Washington D.C. on Friday as part of the Prime Minister's four-day state visit to the U.S. The event was organized to discuss technology areas of mutual interest and collaboration between the two countries, and roundtable guests included CEOs from leading U.S. and India companies. FMC was the only agriculture-focused company to attend the roundtable with Prime Minister Modi and President Biden. During the event, participants discussed innovation opportunities in a shared technology ecosystem across varied sectors. Mr. Douglas shared perspectives from the crop protection industry, commenting how technology is already driving innovations in the sector, from digital and precision agriculture tools to drones and the discovery of new molecules. These have led to more effective, efficient and sustainable methods to protect crops and increase food production. He also emphasized the need for a more efficient regulatory and registration system, to ensure farmers across India, the U.S. and around the world have faster access to the most advanced crop protection technologies.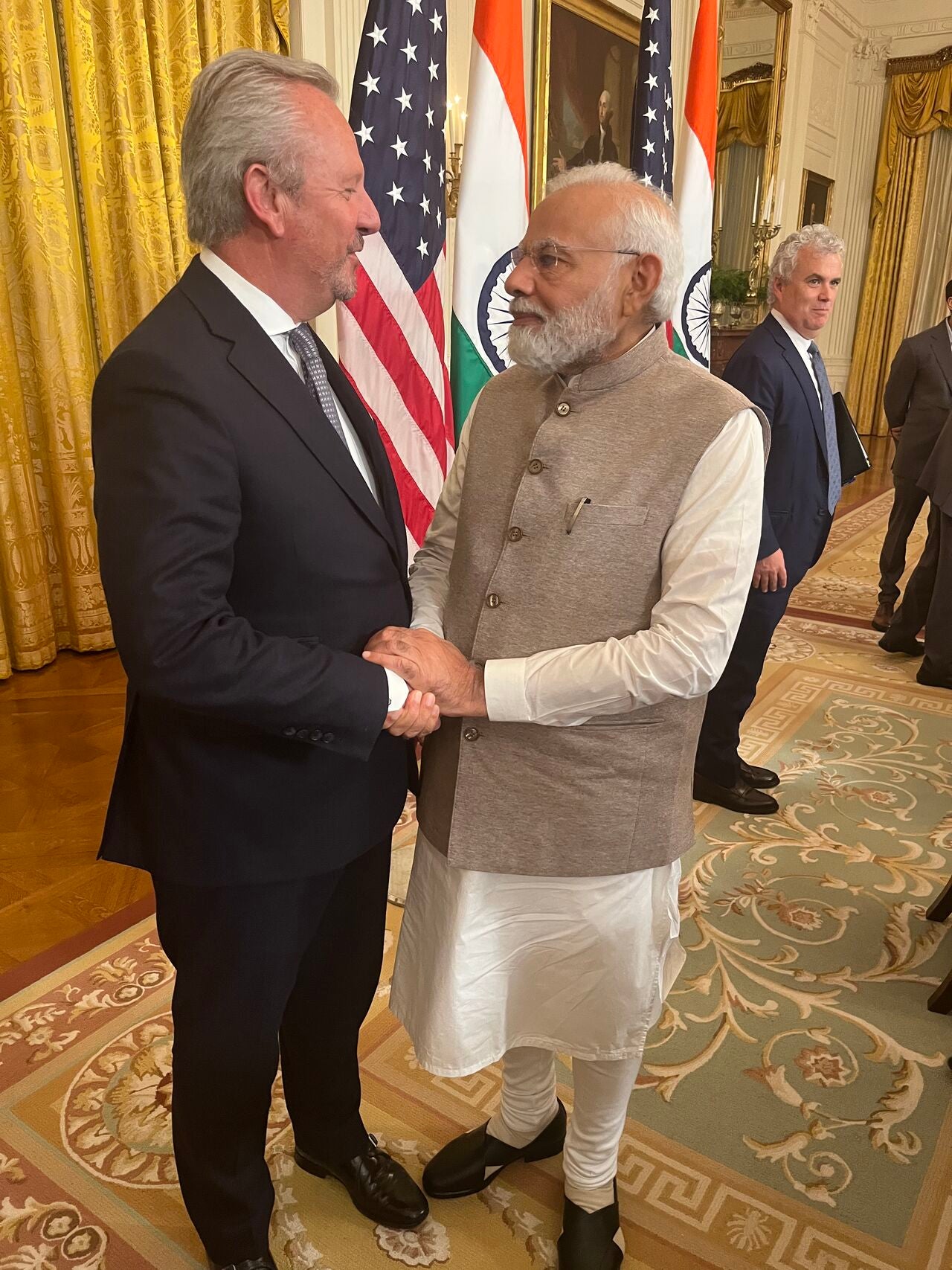 "Agriculture has been and continues to be a beneficiary of technological advances from other industries. Technology integration is the key towards advancing agriculture with sustainability and safety at the forefront for farmers in India and around the world. This roundtable offered a platform for us to bring together governments and companies through cooperation and exchange of knowledge," said Mr. Douglas. "India is one of the top three markets for FMC globally. With the swift evolution of the agritech industry across the globe, it is pertinent and crucial for the Indian agriculture ecosystem to be more adaptive, and for policymakers to consider how best to enhance the efficiency of agrochemicals' regulatory and registration systems. This will support agricultural companies like FMC to quickly bring to market the latest, more sustainable technologies such as microbial and sprayable pheromones to Indian farmers, resulting in more resilient food systems and food security for today and tomorrow."
FMC has always focused on introducing innovative solutions to growers, from synthetic and biological crop protection and nutrition products, to unique application systems. Mr. Douglas was recently in India to launch a drone spray service for farmers in Madhya Pradesh. The utility of drones and other advanced application systems has been instrumental in improving farming efficiency as well as yields. As drones greatly reduce the time necessary to treat a farm, they also ensure the protection of Indian farmers from climate risks that could lead to dehydration and heat stroke.
As the Indian government continues to take strides towards modernization of the agriculture industry, FMC has made clear its continuing commitment to the country and its progress, just as it has done for more than three decades.
Mr. Douglas added, "It was an honor to participate in this historic meeting, and to serve as the voice of the agricultural industry. We are grateful to President Biden, Prime Minister Modi, Minister Jaishankar, Secretary Kwatra, National Security Advisor Doval, Secretary Singh, Ambassador Sandhu and the Governments of India and the U.S. for FMC's invitation."
The India – U.S. Innovation Handshake roundtable was moderated by U.S. Secretary of Commerce Gina Raimondo, with participation from National Security Advisor Jake Sullivan, National Science Foundation Director Sethuraman Panchanathan, and National Aeronautics and Space Administrator Bill Nelson, along with officials from the Government of India. The continued strong partnership between two of the world's largest democratic nations is expected to unlock a shared future of immense potential and possibilities for a sustainable Indian agriculture industry.
About FMC
FMC Corporation is a global agricultural sciences company dedicated to helping growers produce food, feed, fibre, and fuel for an expanding world population while adapting to a changing environment. FMC's innovative crop protection solutions – including biologicals, crop nutrition, digital and precision agriculture – enable growers, crop advisers and turf and pest management professionals to address their toughest challenges economically while protecting the environment. With approximately 6,600 employees at more than one hundred sites worldwide, FMC is committed to discovering new herbicide, insecticide and fungicide active ingredients, product formulations and pioneering technologies that are consistently better for the planet. Visit fmc.com and ag.fmc.com/in/en to learn more and follow FMC India on Facebook® and YouTube®.