Problem
It can be difficult to decide when to spray insecticide and which fields are at highest risk of WBC infestation that can hurt yield and increase DON levels.
Solution
High risk corn fields are at pre-full tassel during peak moth flight. Apply an insecticide if a 5% threshold is reached. Control is most effective when applied at early to full silking when the highest number of eggs and larvae are found.
What the Research Says 
Which fields are high risk
The corn fields that are most at risk for WBC infestations are those that are at pre-tassel to full tassel during peak flight of the female WBC moths. Female WBC moths preferentially lay their eggs on corn that has a fresh tassel. If they are at peak flight and a corn field is before or after tassel they will move on to another corn field or to a dry bean field. 
When to Scout
The flight of WBC female moths is monitored through an extensive trapping network (Great Lakes and Maritimes Pest Monitoring Network). This network helps determine when WBC moths are at peak flight, which allows scouts and growers to know when it's important to get in their fields and search for egg masses.
When to Spray
Once peak flight has been reached in your region, focus scouting efforts on fields that are at the right stage for WBC egg laying (high risk fields). When the 5% threshold is reached, an insecticide application is warranted. Click here for more information on WBC scouting.
Control of WBC using insecticides has been shown to work best when applied at early to full silking (a few days after full tassel).  This is the time when there is likely to be the greatest number of eggs and larvae present in the field. The goal of a WBC insecticide spray is to kill the larvae after they have emerged from their eggs but before they have travelled into the ear.  Since not all egg masses are laid at the same time and will hatch over several days, it is ideal to use an insecticide that has efficacy on both the eggs and the larvae. Moreover, using an insecticide with a longer residual will help to ensure the control of any later laid eggs.
WBC can hurt yield quality
WBC not only hurts yield, it increases the severity of mycotoxins leading to increased levels of DON at harvest. In areas with a history of DON issues, WBC insecticide applications should be made once a 1-2% threshold is reached. Additionally, WBC insecticides (tank mixed with or without ear disease fungicides) should be applied during silking (before silk browning).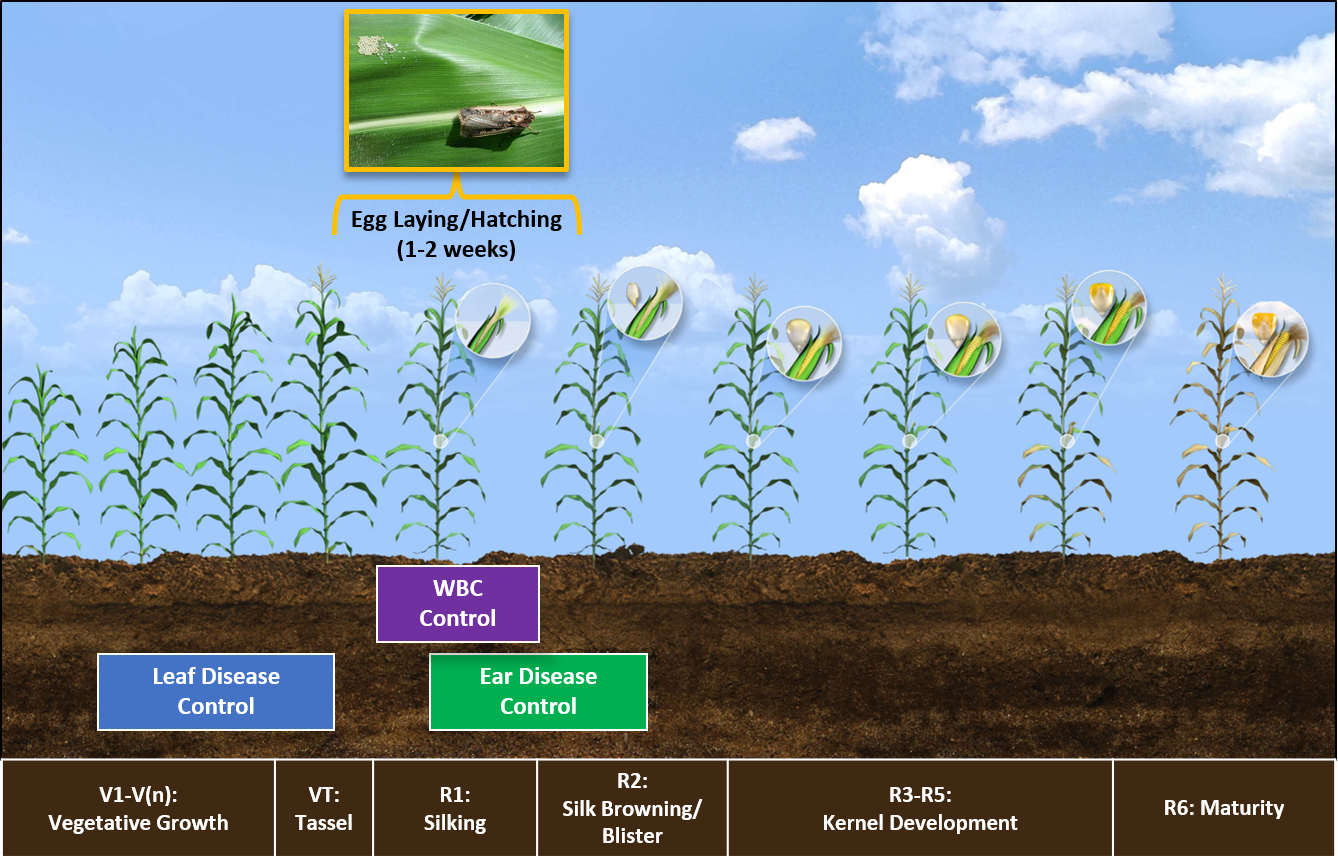 Give yourself more time
Give yourself more time - apply Coragen® MaX insecticide for longer lasting WBC control.
References
Baute T., Smith, J., and Schaafsma, A. 2018. Western Bean Cutworm: Scouting and Management in Field Corn. Field Crop News.
Parker, NS., Anderson NR., Richmond, DS., Long, EY., Wise KA., and Krupke CH,. 2016. Larval western bean cutworm feeding damage encourages the development of Gibberella ear rot on field corn. Pest Manag. Sci. 73: 546-553