Tough perennial weeds like dandelion and narrow-leaved hawk's beard thrive as spring arrives, and become ever-harder to control as they increase in size. Overall, that translates to significant competition for moisture and nutrients.
As described by University of Nebraska-Lincoln extension resources, the loss of large quantities of soil moisture in spring leads to crop germination delays and uneven establishment. The harbouring of insects and diseases is also a significant problem.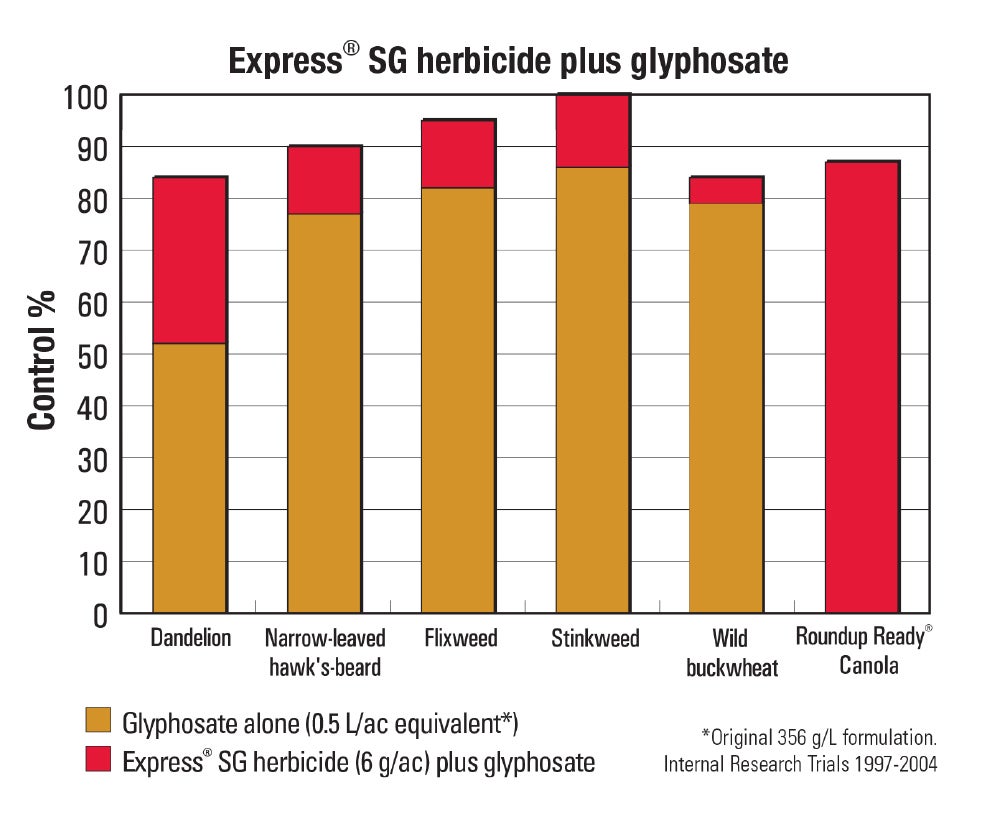 Autumn – the ideal application season
Many weed species are triggered to move carbohydrates and sugars directly to root systems in the fall. Applications of the right herbicide allow growers to take advantage of this process and attack problem weeds at their source. Good control and cleaner spring fields are the result.  
Over time this approach can simultaneously help reduce a field's weed seed bank, while preventing herbicide resistance through less selection pressure opportunity.
Express® herbicides – flexible, effective fall choices
Express brand herbicides from FMC deliver complete burnoff with no re-growth thanks to the products' systemic movement right down to the roots.  Choose from three products for cropping flexibility, extended control or maximum resistance management.
Express® FX – MAXIMIZE RESISTANCE MANAGEMENT
Express FX herbicide is your go-to comprehensive broadleaf weed control tool – from perennials to annuals and winter annuals. It's powerful systemic burnoff capability makes it particularly effective against narrow-leaved hawk's beard, dandelion, Russian thistle, cleavers, kochia, volunteer canola, wild mustard and wild buckwheat.
Combined with glyphosate, three modes of action (Groups 2, 4 and 9) mean better weed management for today and tomorrow.
If Express FX is applied prior to October 1, then the following crops can be planted in the spring: Canola, corn, lentils, oats, spring barley, soybeans, wheat (spring, durum) or white beans in addition to spring barley, oats, wheat (spring, durum).
If Express FX is applied after October 1, then the recommendation is to plant spring barley, oats, wheat (spring, durum) only, the following spring.
Product specs:
Application rate: 80 acres per case
Water volume:    5 gallons per acre
More Express HERBICIDE options
Enhance the activity of glyphosate on tough biennial and perennial weeds and keep your re-cropping options open for next spring with Express SG herbicide.
At 80 acres per jug, Express SG herbicide also benefits from a wide fall application window – post harvest and prior to October 1, and can be tank-mixed with any glyphosate for enhanced control.
Use Express PRO herbicide with glyphosate to get a head start on spring with up to 15 days of powerful systemic action that's even more effective when applied in the fall.
Express® PRO herbicide brings extended control of winter annual, bi-annuals, and perennial weeds for cereals. Species controlled include white cockle, scentless camomile, dandelion, narrow-leaved hawk's beard, and volunteer canola.
VIEW ALL FALL HERBICIDE PRODUCTS