Group 4 Herbicide
---
For the control of a wide range of broadleaf weeds in fallow, Lucerne, Maize, Millets, Pastures, Poppies, Sorghum, Sugarcane, Sweetcorn and winter cereals. Also, for the control of woody weeds in agricultural non-crop areas, commercial and industrial areas, forests, pastures and rights-of-way.
 
Quick Facts
Proven control of many broadleaf weed species to achieve cleaner paddocks.

Option in-fallow and certain in-crop situations for added flexibility.

Compatible with glyphosate and other herbicides as a reliable tank mix partner.

Activity on a wide range of weed sizes for superior overall control.

Short re-cropping interval to most major crops.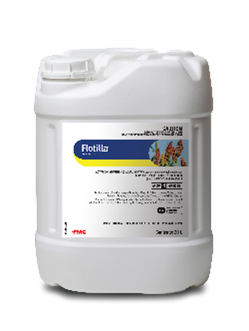 PRODUCT SPECIFICATION
400 g/L Fluroxypyr Present
Solvent: 

299 g/L Liquid Hydrocarbon; 100 g/L N-methyl-pyrrolidine

Formulation type: Emulsifiable Concentrate (EC)
Pack size: 20L, 110L
APVMA Code: 67029/107896
Product Overview
Flotilla® Herbicide is classified as a Group 4 Herbicide belonging to the synthetic auxin family of herbicides. It is used for the post-emergent control of a wide range of broadleaf weeds in a wide range of situations including fallow establishment and maintenance, winter cereals, pastures, sorghum, sugarcane, woody weed control and non-crop uses.

Fallow

Sweet corn

Pastures and Rangeland
Winter Cereals

Maize
Always refer to the product label for an official listing of crop usage, restrictions and precautions.
Full crop listing
Fallow
Sorghum
Sweet corn
Pastures and Rangeland
Winter Cereals
Maize
REGISTERED STATES and territories
---
Australian Capital Territory
New South Wales
Northern Territory
Queensland
South Australia
Tasmania
Victoria
Western Australia
---
Always read and follow label instructions.
FMC, the FMC logo and Flotilla® are trademarks of FMC Corporation and/or an affiliate.