Two members of the FMC North America technical service team, Matthew Wiggins and Sam Rustom, were recently recognized at the Southern Weed Science Society's (SWSS) annual meeting for their accomplishments and contributions in the area of weed science.
Wiggins received the "SWSS Outstanding Young Weed Scientist – Industry" award. It is presented annually to a young industry weed scientist in recognition of their outstanding service to weed science.
Rustom received the "SWSS Outstanding Ph.D. Graduate Student" award. This accomplishment is sponsored by the SWSS Endowment Foundation and given to a Ph.D. graduate student who has demonstrated outstanding performance in graduate studies and related weed science activities.
"These are well-deserved awards for two outstanding members of our technical service team. They embody everything it means to be an FMC representative and partner in the field. We're proud of their accomplishments and look forward to what they'll bring to the table for the crop consultants, growers and retailers we serve," says Eric Castner, regional technical manager of the Eastern Horseshoe, FMC.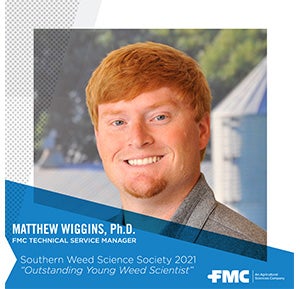 Matthew Wiggins is a technical service manager for FMC, covering Kentucky, Tennessee, north Alabama and southeast Missouri. Previously, Wiggins was recognized in 2017 by the Weed Science Society of America as an author for "Outstanding Paper Published in Weed Technology in 2016." He also continues to serve the SWSS and the Weed Science Society of America on various committees and by supporting graduate student activities. Wiggins holds a Ph.D. in weed science and a M.S. in plant sciences from the University of Tennessee.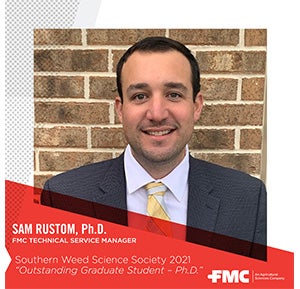 Sam Rustom is a recent graduate of the Ph.D. weed science program at Louisiana State University (LSU). He joined the FMC technical service team in December 2020 as a technical service manager, covering New Mexico and Texas. During his time at LSU, Rustom authored and co-authored numerous peer-reviewed journal articles and abstracts, taught undergraduate and graduate weed science curriculum, and was involved with extension. Rustom has also been active in the SWSS, serving on the local arrangements committee, as a session chair and moderator for the 2020 conference. In addition, he is a member of the Weed Science Society of America, Rice Technical Working Group and International Weed Science Societies.
Always read and follow all label directions, precautions and restrictions for use. Some products may not be registered for sale or use in all states. FMC and the FMC logo are trademarks of FMC Corporation or an affiliate. ©2021 FMC Corporation. All rights reserved. 21-FMC-0475 02/21