Early intervention, before symptoms are visible, pays dividends. 
A vineyard's normal productive lifespan is more than 20 years, but increasingly, grape growers are being forced to push out and replace vineyards during what should be their peak producing years. The hidden culprits are grapevine trunk diseases (GTD) that cause wood cankers and also strangle the vascular system of the vines depriving them of adequate water and nutrients.
GTD pathogens enter the plant through pruning wounds. Once a vineyard is infected, the disease progressively spreads via aerial spores. A 10-year-old vineyard with 20% disease incidence typically suffers 75% disease incidence within five years. It's not uncommon for trunk diseases to cause a 20% yield loss in 10-year-old vineyards and 70% yield loss by year 15.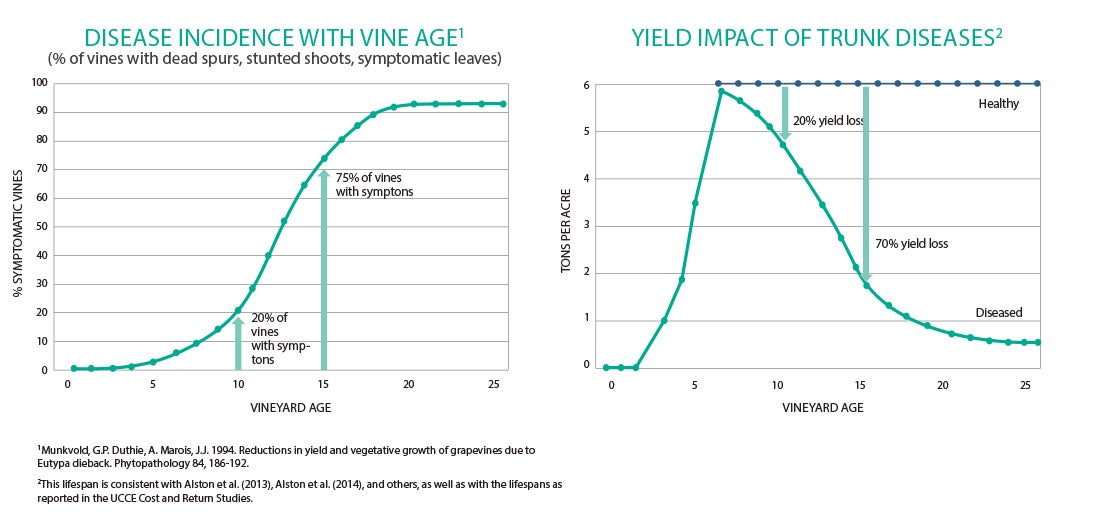 "The GTD complex is the most dangerous disease in grapes. Powdery mildew is the most common disease of grapes, but if you don't control powdery mildew, you only lose the crop that year. If you don't control GTDs, you lose part of or all of the grapevine, so there is much greater economic damage in the long term," explains Dr. Akif Eskalen, University of California Cooperative Extension plant pathologist. He also notes that GTD fungal pathogens are widespread, have many hosts and threaten all vineyards.
Kendra Baumgartner, a USDA plant pathologist who has been studying GTD in California wine grapes since 2000, says GTDs are present in every vineyard 10 years old or greater that she has visited. "Yield is decreased every year, and profit margins shrink to the point where growers give up and must replant the entire vineyard much sooner than anticipated," she explains. "With declining grape prices and lower profit margins, every cluster that's not forming is noticed."
Avoid costly replanting by managing GTD early
Replanting a vineyard is an expensive endeavor, which growers want to delay as long as possible. "It costs close to $20,000 per acre to rip out an old vineyard and establish a new one," says Joel Noah, a PCA with Nutrien Ag Solutions. "If growers can increase the longevity of their vineyard by five, six, seven, eight, nine, 10 years, that's money in the bank."
Research by Baumgartner and her colleagues has shown that early preventive intervention, before GTD symptoms are obvious, can significantly increase the profitable lifespan of an infected vineyard. Current preventive strategies include delayed pruning, double pruning and application of pruning wound protectants. "By intervening early when vineyards are 3 to 5 years of age, growers can manage GTD and extend the productive life of their vineyard by five to 10 years. Our studies show the earlier you intervene the better," Baumgartner says.
In the San Joaquin Valley, Noah's clients employ delayed pruning and application of pruning wound protectants to prevent GTD and vine surgery to retrain symptomatic vines. "These tactics are labor intensive and expensive, but growers recognize the severe impacts of this disease," he says.
New management tactic for GTD shows promise
With labor costs rising, Noah is excited about a novel way to manage GTD through drip irrigation with a uniquely systemic fungicide. He has been conducting trials with Rhyme® fungicide for three years in a 6-year-old Cabernet Sauvignon vineyard and in a 24-year-old Petite Syrah vineyard that was in rough shape.
"In the young (Cabernet Sauvignon) vineyard, we applied Rhyme fungicide via drip once after harvest annually and saw a reduction in infection compared to the untreated check," says Noah. "The older (Petite Syrah) vineyard received three drip applications of Rhyme fungicide per year: in the late spring, mid-summer and post-harvest. Each year, we have observed increased growth, vigor and improved overall health in the weakened Petite Syrah vines. Vines that had trouble holding a small crop load can now hold an average crop load without struggling or dying."
Following the first year of the trials with Rhyme fungicide, the two vineyard managers were impressed enough that they decided to treat their whole vineyard with Rhyme fungicide leaving only two untreated check rows.
One of a kind, inside-out disease protection
Noah currently has a dozen wine grape growers managing GTD with Rhyme fungicide via drip. "Prior to this, our only option to combat GTD was cutting it out, removing the wood and replacing vines. Rhyme fungicide is demonstrating that it's a very good material to combat trunk disease. The advantage of Rhyme fungicide is its systemic movement up the xylem to new growth. It means you can treat the disease from the inside out. It's a whole new way of combatting trunk diseases, which plug up the vascular tissue of the plant," says Noah.
Pathology trials by the University of California and FMC have documented Rhyme fungicide applied through the drip and pruning wound application decreases the infection of a complex of pathogens responsible for destruction of the xylem tissue, which leads to grapevine decline and death. Rhyme fungicide is the only fungicide applied through the drip to decrease the infection of two of the costliest diseases of grapes: powdery mildew and grapevine trunk disease. "We've never had something like Rhyme fungicide that can help growers' vineyards stay healthier, produce longer and produce more consistently over the lifespan of that vineyard," says Noah.
If Rhyme fungicide applied through the drip post-harvest protects the vines from getting the disease at an earlier age or from getting it all, we are increasing the longevity of the vineyard by an extra five or six years of strong production. Not only that, we can eliminate a lot of labor costs for cutting out diseased wood and retraining the vines. In addition, we can eliminate application costs for a post-pruning treatment."

– PCA Joel Noah, Nutrien Ag Solutions, Stockton, CA
This Rhyme fungicide recommendation is made as permitted under FIFRA Section 2(ee) for the management of wood disease complex on grapes in California. This recommendation has not been submitted to or approved by the EPA. The 2(ee) expiration date is 12/05/2024.
Always read and follow all label directions, precautions and restrictions for use. Some products may not be registered for sale or use in all states. FMC, the FMC logo and Rhyme are trademarks of FMC Corporation or an affiliate. ©2020 FMC Corporation. All rights reserved. 20-FMC-0814 07/20