A New Approach To Managing Grapevine Trunk Diseases 
Grapevine trunk diseases (GTD) are the most destructive disease complexes in grapes, causing significant economic losses due to reduced yields, increased management costs and shortened vineyard lifespan. University of California Cooperative Extension Plant Pathologist Dr. Akif Eskalen estimates more than 80% of grapevines in California are impacted by GTD. While symptoms are not always visible, current management practices are labor intensive and costly.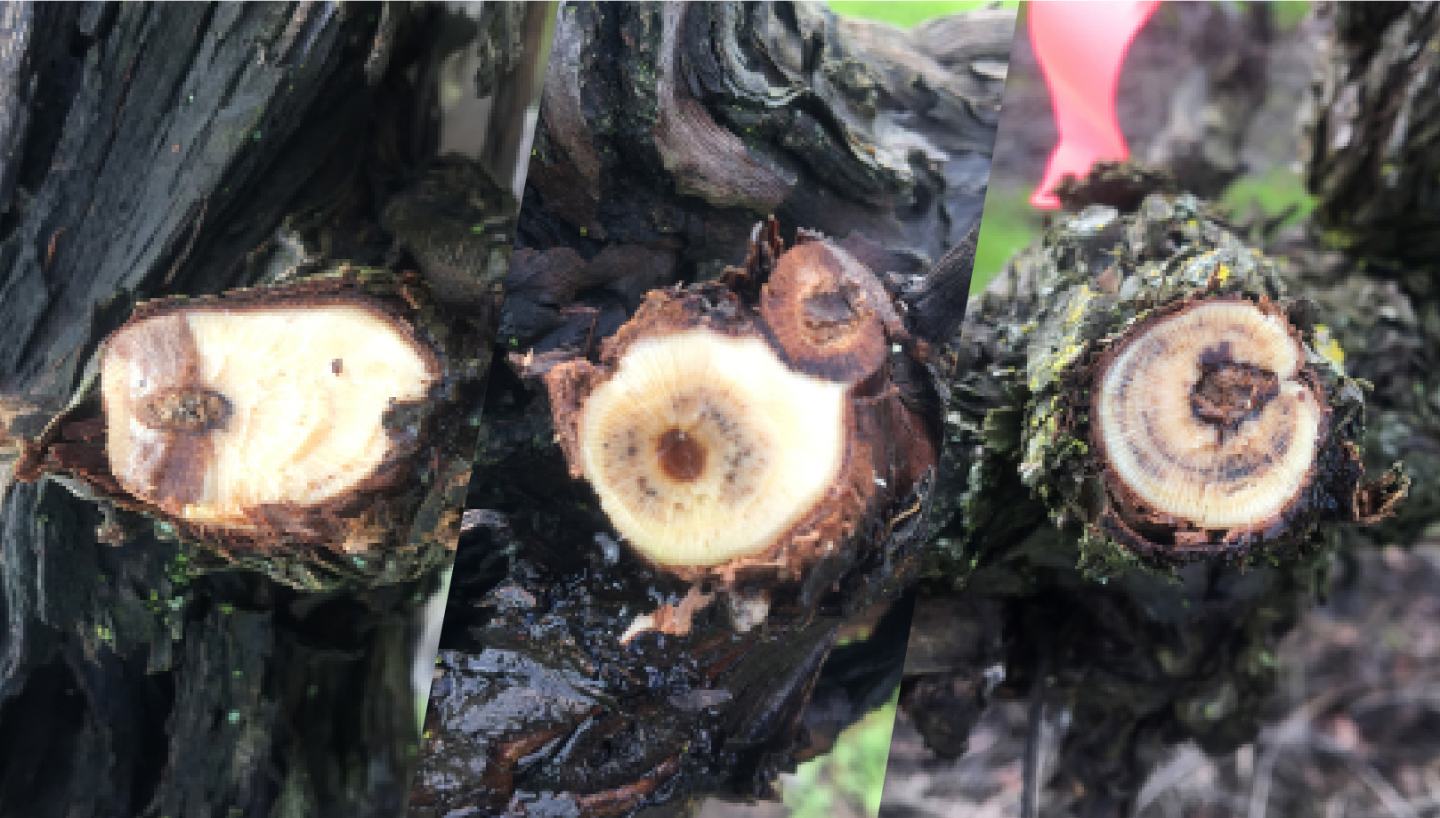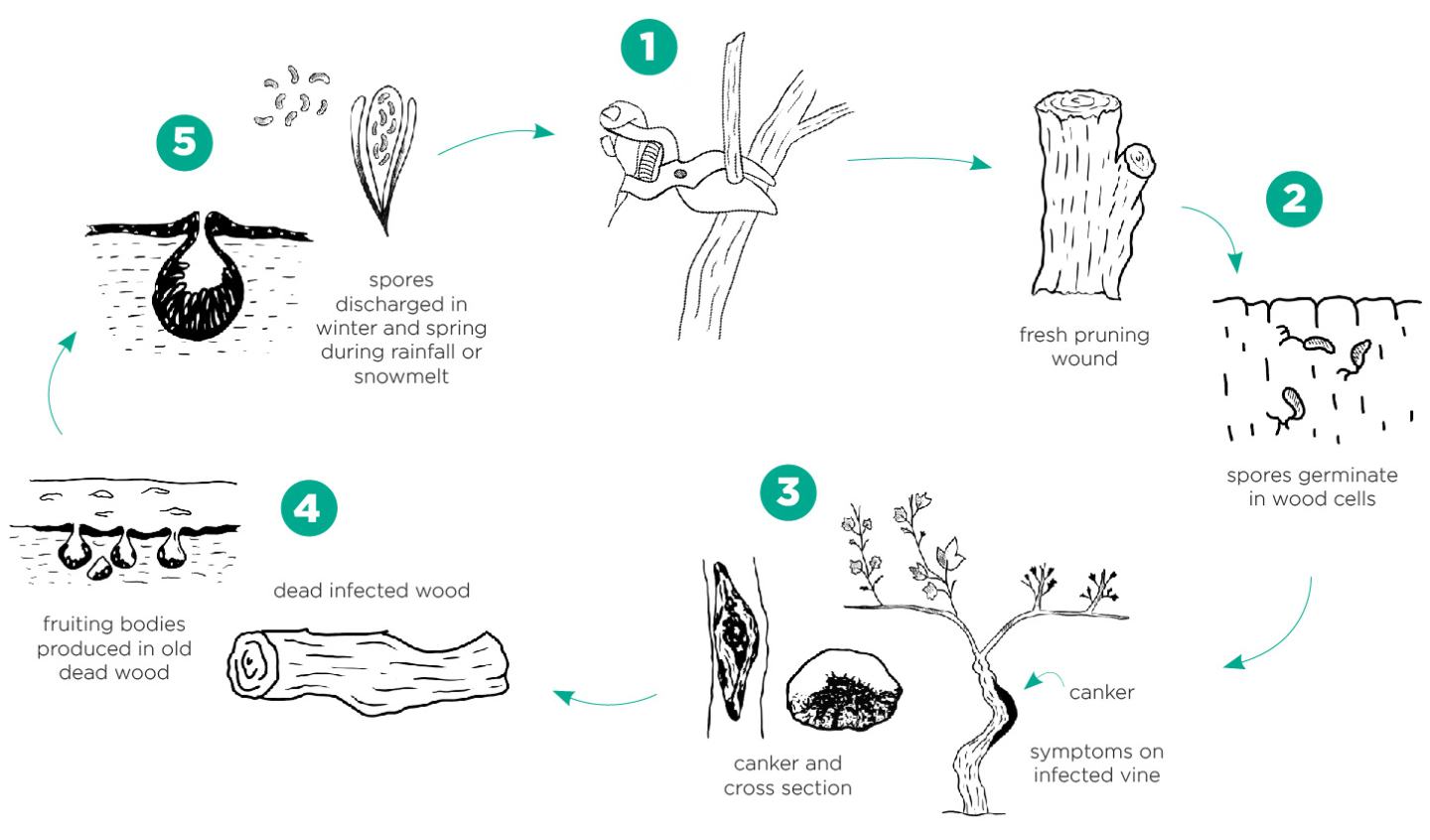 1. PRUNING OR HARVEST INJURY
More than 95% of trunk disease infections are associated with pruning or other cultural practices, such as mechanical harvesting.
2. OPEN WOUNDS, OPEN FOR INFECTION
These practices can leave wounds exposed and open to infection by pathogens. The spread of the pathogens usually happens during rain events.
3. PATHOGENS GROW IN THE VINE
These fungal pathogens grow and decay the xylem and phloem, slowly killing vines.
---
4. DEAD VINES PRODUCE SPORES
Spore-producing bodies grow in dead vine wood.
5. SPORES SPREAD TO NEW VINES
In the presence of water, spores are released and dispersed by wind to infect fresh pruning wounds.
Over time, this leads to huge losses for grape growers.

Rhyme® Fungicide Redefines Vineyard Life Management
Research shows that early preventative intervention can help increase the profitable lifespan of an infected vineyard by 26-47%.* With a 2(ee) recommendation for management of trunk disease complexes in California grapes, Rhyme® fungicide offers growers a new way to approach the issue. 
When applied via drip, Rhyme fungicide helps control the pathogens responsible for destruction of the xylem tissue that leads to grapevine decline and eventual death. The chart on the right illustrates how it helps stop disease progression and preserve yield potential by reducing lesion length in various pathogens by 13%-53%. In this same study, researchers detected flutrialfol in plant xylem two to three months after the last application. 
Download the article to read more about the research. 
Disease Development by GTD Pathogen
Rhyme fungicide via drip reduced disease development as measured by lesion length compared to the untreated check. Lesion length was reduced by 13%-53% depending upon the pathogen.

---
*Dr. Akif Eskalen, University of California Davis Extension Research.
**This timeline represents the estimated yield reduction caused by GTD. Estimates are based on industry research and assumes a peak yield of 6 tons/A.
This Rhyme fungicide recommendation is made as permitted under FIFRA Section 2(ee) for the management of wood disease complex on grapes in California. This recommendation has not been submitted to or approved by the EPA. The 2(ee) expiration date is 12/05/2024.
Always read and follow all label directions, precautions and restrictions for use. Some products may not be registered for sale or use in all states. FMC, the FMC logo and Rhyme are trademarks of FMC Corporation or an affiliate. ©2021 FMC Corporation. All rights reserved. 21-FMC-0161 02/21