Read the entire report from
our technical services team
We've heard it repeated by weed scientists across the country for years: keeping fields clean can reduce our weed seedbank, improve yields and maintain the viability of our cropland and chemistries. However, do herbicide resistance, species shifts, and agronomic practices justify a fall application, or can we continue to rely on spring preemergence applications followed by a single postemergence application?
The presence of fall or early-spring emerging weeds slows soil warming, harbors insects and nematodes, and can decrease seedsoil contact during planting causing uneven emergence.
University research has shown that fall-applied residual herbicides can improve weed control of winter annuals over POST-only burndown programs. While fall applications are not designed to provide full-season control of summer annuals such as waterhemp, velvetleaf and grasses, they provide an effective tool for growers who want to start clean, which is a critical first step to controlling herbicide-resistant weeds. For best results, apply residual herbicides when soil temperatures are lower than 55 F and declining to prevent herbicide degradation. At these lower temperatures, soil microbial activity is slow, and herbicides will remain active into the spring when they are needed to control emerging weeds but also when early rains prevent timely spring applications. It is important to use at least15 GPA when treating fields with heavy crop residue or weed populations for better coverage.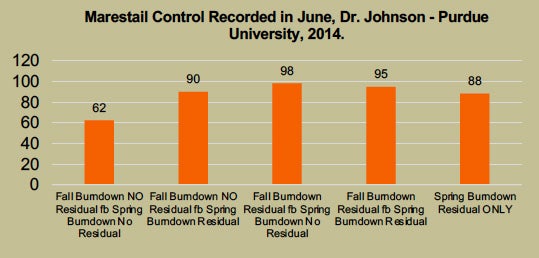 Standard burndown programs typically include 0.77 lb. ae of glyphosate plus 0.5 lb. - 2 lb. of 2,4-D or dicamba but may also include glufosinate or paraquat. The issue with standard programs is they become a force of habit rather than agronomically sound. Over-reliance on POST herbicides and lack of residual control are two key causes for weed escapes and resistance selection. See how FMC is building programs that work for everyone. Products can be mixed and matched to provide the custom fit each grower requires.
Gramoxone SL herbicide and paraquat are Restricted Use Pesticides. Always read and follow all label directions, precautions and restrictions for use. Some products may not be registered for sale or use in all states. FMC, the FMC logo, Aim, Anthem, Authority, Panoflex, TotalSol, and Spartan are trademarks of FMC Corporation or an affiliate. Gramoxone is a trademark of Syngenta Group Company. Roundup Ready and Roundup PowerMAX are trademarks of Bayer CropScience or an affiliate.