Read the entire report from
our technical services team
Intermittent rains, cooling and warming trends have made burndown applications in the region tricky thus far in 2021. Years of research has proven that auxin and glyphosate applications do best during prolonged periods of warm weather, but when inconsistent weed emergence takes place, it increases the need for a strong residual chemistry that also has aggressive contact control and synergy with systemic foliar options.
anthem® flex herbicide
Contact and residual
Corn or soybean PRE programs
Use rate: 2.75 – 5.5 fl. oz./A
Readily tank-mixes with other chemistries
Anthem Flex herbicide combines the proven residual performance of pyroxausulfone with the burndown power of Aim® EC herbicide. Together they form an easy to use, low use rate premix that can provide the backbone to any PRE herbicide program in corn or soybeans
aim® ec herbicide
Contact control irrespective of weather
Burndown, PRE, harvest aid, and POST (see label)
Use rate: 1 fl. oz./A
Readily tank-mixes with other chemistries
Aim EC herbicide is composed of carfentrazone-ethyl, a dominant contact compound in the mode of action Group 14. Aim EC herbicide provides consistency to management programs that struggle during periods of cool weather which we often face in the spring. A spring burndown trial in Bostwick, NE showed the benefits that carfentrazone-ethyl can bring to systemic burndown programs in just 11 days of sub-60°F weather. Layering this treatment with a proven residual herbicide can rescue an otherwise very weedy situation.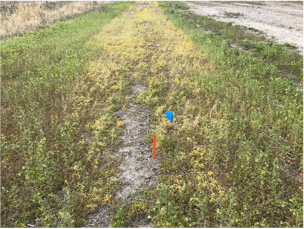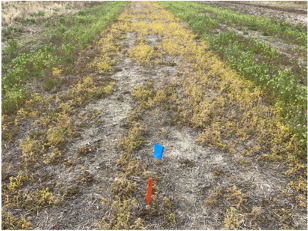 WHY CHOOSE ANTHEM® FLEX HERBICIDE OVER OTHER GROUP 15 HERBICIDES?
Not all Group 15 herbicides are equal:
Pyroxasulfone has low solubility and is not tightly bound to the soil.
Half-life is ~50% longer than dimethenamid or s-metolachlor.
Lower resistance ratios compared to other Group 15 herbicides in Illinois and Arkansas.
Low active ingredient rate is needed for control: 0.13 lb. ai. pyroxasulfone vs. 1.25 lbs. s-metolachlor.
Herbicide

H2O Solubility

Kd valueSorption Coeff.

Approx. Half-life(Days)

Pyroxasulfone
(AnthemFlex herbicide)

3

1.72

34

Dimethenamid. – P
(Outlook® herbicide)

1450

2.28

20

s-Metolachlor
(Dual Magnum® herbicide)

530

4.01

22
"Low Kd reduces the amount of rainfall needed to move herbicide into soil and may allow better performance under drier conditions. Conversely, a herbicide with a high Kd can be expected to perform better in years with above average rainfall since less herbicide is leached out. However, the differences in Kd are small enough that, under most conditions, differences in performance will not be due to the availability of the herbicide within the soil profile. Rather, differences in rates applied, or differences in specific conditions found between fields where products are used probably will be responsible for most differences in performance of Group 15 herbicides."
– Bob Hartzler, Iowa State University, March 15, 2013.
Always read and follow all label directions, precautions and restrictions for use. Some products may not be registered for sale or use in all states. FMC, the FMC logo, Anthem and Aim are trademarks and HatchTrak is a service mark of FMC Corporation or an affiliate. Dual II Magnum, Prefix and Sequence are trademarks of Syngenta Group Company. Verdict and Outlook are trademarks of BASF Ag Products. Roundup PowerMAX is a trademark of Bayer CropScience. ©2021 FMC Corporation. All rights reserved. 21-FMC-1849 04/21