Read the entire report from
our technical services team
Phyllachoramaydis, known irreverently as tar spot, first appeared on the corn disease stage in 2015. Dry conditions and prevailing winds initially left the disease inactive and of little consequence to the western Corn Belt and Great Plains. However, certain weather events in the last two years have facilitated the westward expansion of tar spot. Tar spot is an obligate parasite of corn that overwinters in plant residue and favors cool, humid conditions. Infection can result in small, raised black spots known as stromata. These lesions can sometimes take on a "fish-eye" appearance. According to Dr. Darcy Telenko from Purdue University, infection increases of 1% can result in 0.3-1.4 bu/A in yield loss. Furthermore, in 2018, fields with 50% severity on the ear leaf by R5/R6 saw a 17-39 bu/A yield loss.
Newer hybrids and fungicide applications have been effective, but data produced by Michigan State University and Purdue University suggest a two-pass program is warranted. While infection can occur anytime between late vegetative and reproductive stages, it is most common between R1 and R5. At R5, only half of the kernel dry weight has been accumulated and any limiting impact on the crop at this time can have a lasting influence on kernel weight. This can be quite concerning since most commercial fungicides only have a 2–4-week residual.
Tar Spot Watchouts to Remember:
Hybrid selection

Some are better than others, but none are perfect

Moisture

7+ hours of leaf wetness from humidity, rainfall or irrigation increases likelihood of infection

Cooler temperatures
Inoculum

Continuous corn at risk
Tillage can be used to bury residue

Scouting

Stromata cannot be scraped off, distinguishing it from insect frass or other diseases
The one size fits all concept rarely lasts for very long; especially when it comes to battling plant diseases. The Crop Protection Network has historically documented that the best ROI is to apply a fungicide at VT-R1. In regards, to more typical midwestern corn diseases, I believe most researchers and growers would agree.  The issue is that by only applying fungicidal protection at tassel we are missing the window to control diseases that appear very early or after R3.
Just like a PRE fb POST concept in herbicides, setting up a residual barrier to disease and then properly timing the POST can be a very effective disease management strategy.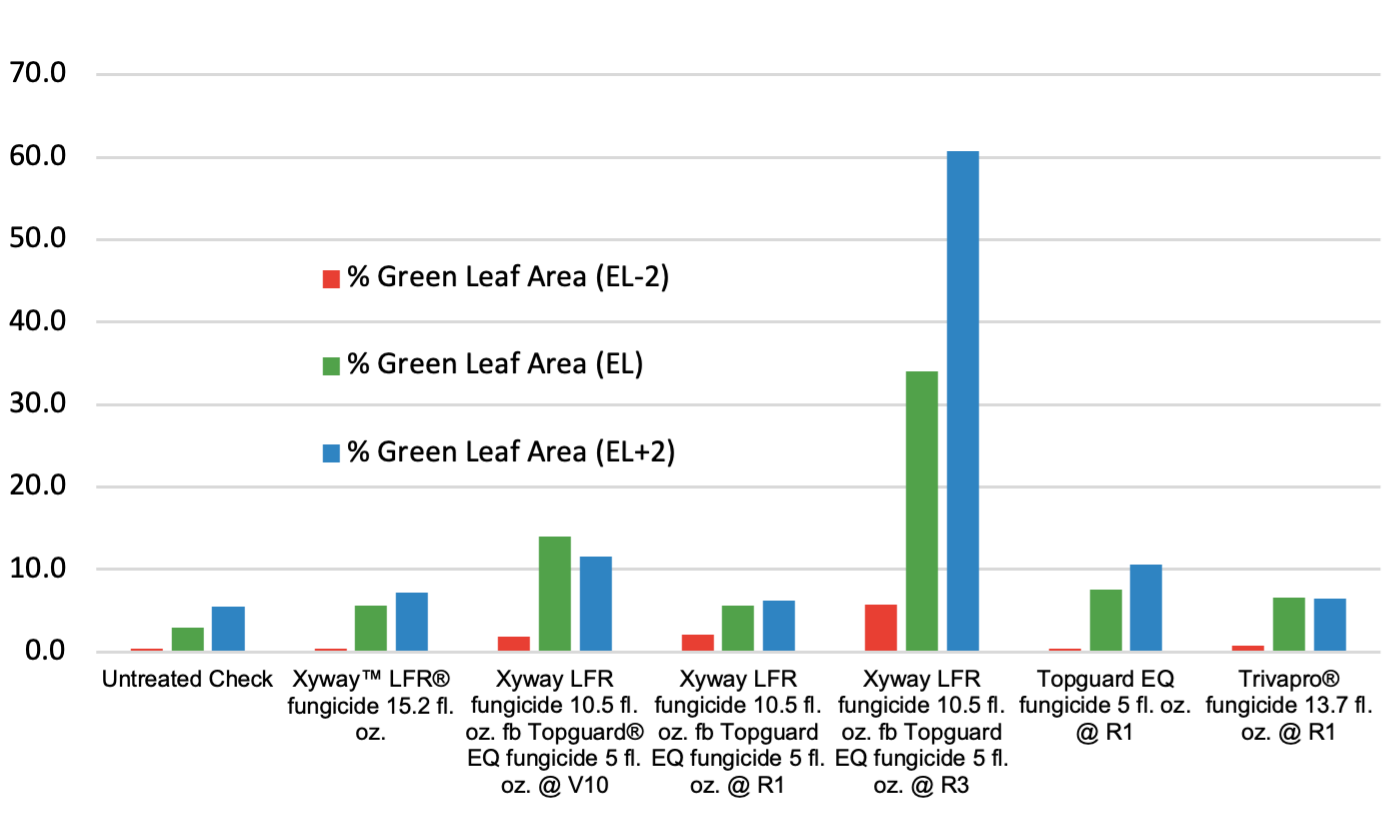 | Program | Treatments | Details |
| --- | --- | --- |
| One-Pass Foliar | Lucento fungicide 5 fl. oz./A @ VT/R1 | Protects the earleaf against tar spot other diseases infecting between VT and R4 |
| At-Plant Two-Pass | Xyway LFR/3D fungicides* fb Topguard EQ 5 fl. oz./A or Lucento 5 fl. oz./A @ R2-R3 | Industry's best tool for season-long disease protection at all stages of development |
| Two-Pass Foliar | Topguard EQ fungicide 5 fl. oz./A @ V8-VT fb Lucento fungicide 5 fl. oz./A @ R2-R3 | Complete protection of ear leaf and upper canopy through all reproductive stages |
* Xyway brand fungicide rate will vary depending on the choice of foliar fungicide applied during the same crop year.
Always read and follow all label directions, precautions and restrictions for use. Some products may not be registered for sale or use in all states. Xyway 3D fungicide and Xyway LFR fungicide may not be registered for sale or use in all states. Contact your local FMC retailer or representative for details andavailability in your state. FMC, the FMC logo, LFR, Lucento, Topguard and Xyway are trademarks and Upside is a service mark of FMC Corporation or an affiliate. Delaro is a trademark of Bayer or an affiliate. Trivapro and Miravis are trademarks of a Syngenta Group Company. ©2022 FMC Corporation. All rights reserved. 22-FMC-0271 03/22