Read the entire report from
our technical services team
Elevest™ insect control is a premix that combines the fast knockdown and broad-spectrum activity of bifenthrin (Group 3A MOA) with the industry-leading Lepidopteran activity of Rynaxypyr® active (Group 28 MOA).
Bifenthrin is a non-cyano group pyrethroid with years of proven efficacy on many insect pests while Rynaxypyr active is an anthranilic diamide, serving as a muscle antagonist at the ryanodine receptors (RyR) of insect pests. By destabilizing the release of calcium ions, Rynaxapyr active effectively impairs muscle regulation preventing insect mating, mobility and feeding.
What does this mean for efficacy? 
Elevest insect control has contact and ingestion activity in the form of broad-spectrum knockdown and lengthy residual control of soybean podworms (corn earworm), leaf feeding caterpillars, stink bugs, grasshoppers and many other pests in soybeans.
What are soybean podworms? 
Soybean podworms are called corn earworms in corn. The soybean podworm may feed on foliage, flowers and soybean pods. Podworms chew through the pods to feed on the seeds within. Feeding occurs from late July through September. Early detection, while the larvae are still small, is the key to good control. Significant damage may occur when large larvae feed on pods, consuming the developing seeds. Fields should be checked for small podworms as flowering begins. In Kansas, control measures should be implemented when an average of one small podworm per foot of row is detected.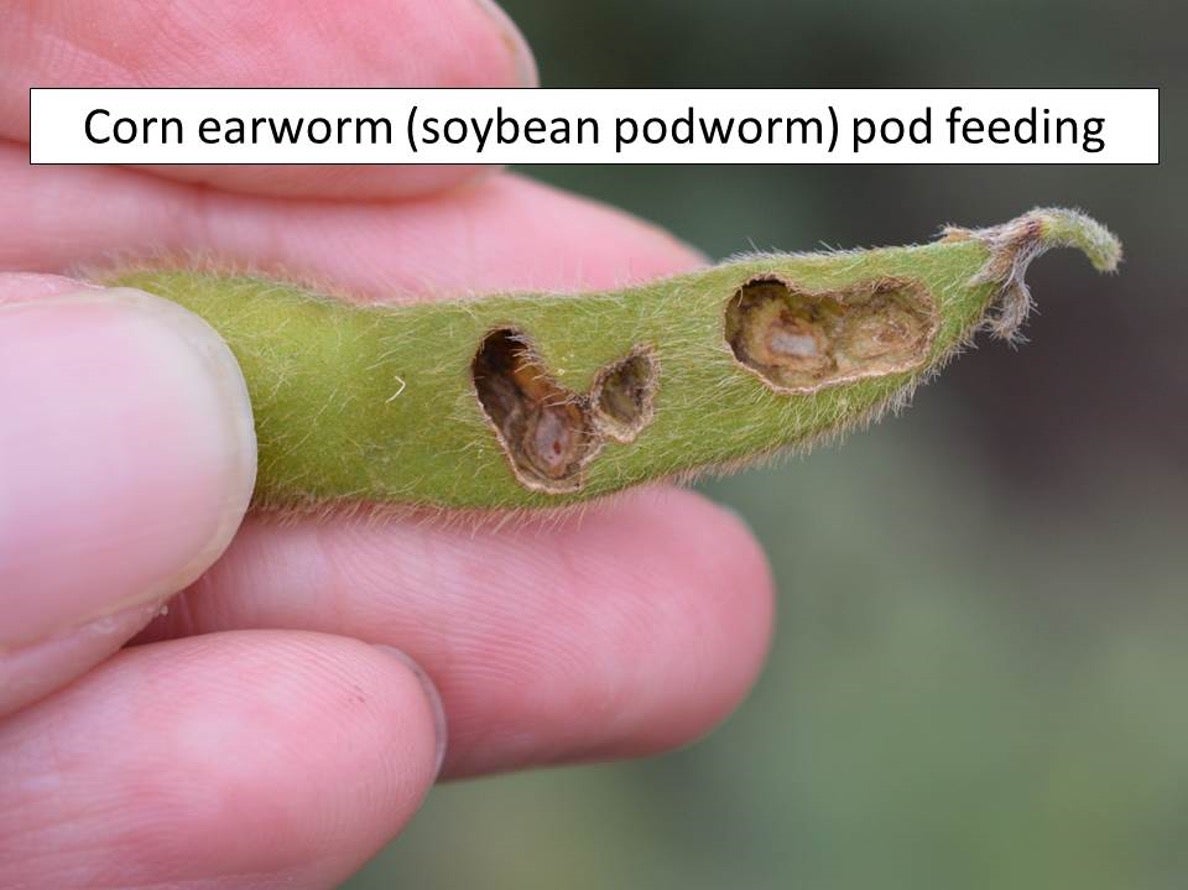 Key Use Recommendations in Soybeans
4.8 - 9.6 fl. oz./A

Max of three applications per calendar year

Minimum treatment interval in soybeans: 30 days

REI: 12 hours

Aerial: ≥ 2 GPA

Ground: ≥ 10 GPA

Chemigation Allowed: Yes

Compatible with most other insecticides, herbicides, fungicides, adjuvants and fertilizers.
| Labeled Crops | Preharvest Interval (PHI) |
| --- | --- |
| Sweet Corn | 1 day |
| Field, Pop, Seed Corn | 30 days |
| Soybeans | 18 days |
| Dry Beans and Peas | 14 days |
| Succulent Beans and Peas | 3 days |
| Potatoes | 21 days |
| Cotton | 21 days |
Benefits of Elevest

™

 Insect Control in Soybeans 
Two modes of action, right ratio, right rate with broad-spectrum control.

Superior, long-lasting residual control of soybean

podworms

and other key pests in soybeans to help maximize yields.

Broad-spectrum chewing pest control:

podworms

, leaf feeding caterpillars, beetles (leaf, flea, Dectes stem borer and weevils) and grasshoppers.

Sucking pests (stink bug species, leafhoppers and three-cornered
alfalfa hopper).

Elevest insect control's premix ratio of bifenthrin to Rynaxypyr

 active provides a balance to maximize the use rate of the two active ingredients, allowing for better overall control and broader spectrum control.

Elevest insect control has a greater ratio of Rynaxapyr active ingredient at equivalent fluid ounces of product per acre than Besiege

®

insecticide.

 

Besiege insecticide and Elevest insect control are Restricted Use Pesticides. Always read and follow all label directions, precautions and restrictions for use. Some products may not be registered for sale or use in all states. Elevest insect control may not be registered for sale or use in all states. Contact your local FMC retailer or representative for details and availability in your state. FMC, the FMC logo, Elevest and Rynaxypyr are trademarks and HatchTrak is a service mark of FMC Corporation or an affiliate. Besiege is a trademark of a Syngenta Group Company. ©2020 FMC Corporation. All rights reserved. 20-FMC-2843 07/20