T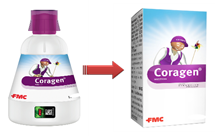 here are enough examples of brands in the world of consumer durables or fast-moving consumer goods which have attained cult status, but there have hardly been any examples in the Agri-Input industry of brands which have had an excellent trajectory & acceptance, like our own 'Coragen®. Coragen® has been serving Indian farmers for over a decade and become a household name among the farming fraternity today. Even competitors respect this brand, more than they envy!
One of the success stories of Coragen® has been associated with managing Fall Army Worm in Corn. Our team did a wonderful job through SAFFAL campaign to empower Indian farmers to fight the menace of invasive pest Fall Armyworm by mobilizing nationwide extension system and Coragen® spearheaded this campaign in India. To celebrate this success story further, we this year got approval from the Indian regulatory authority (CIBRC) for the 80 ML pack for Coragen®. Why is this SKU (or will be) important? Well, this has to do with the rate of application of Coragen®. This pack is tailormade for one-acre dose. This will help our sales team and channel in right advocacy and help the corn growers adopt the correct dose so that they have a sustainable solution to this dreaded pest in Corn.
The introduction of 80 ML SKU has been special with many firsts to it. This has been the first campaign from Savli manufacturing team to produce 80 ML SKU with an individual mono-carton. The local sales & marketing team also welcomed this new family member with warmth. The IN1 SBU team had the privilege of unveiling this new pack in their key corn geography East Uttar Pradesh & Bihar. The team this year has decided to go full throttle in Corn with an innovative Coragen®, Dus Ka Dum campaign. A thoughtfully designed communication strategy 'Dus Ka Dum' (The Power of Ten – some inspiration from The Ten Commandments!) showcases 10 distinct benefits of Coragen® to a corn grower when applied at right dose and right time. The MarCom team did a wonderful job without losing anytime in developing teasers and launch collateral for mass branding at point of sale, social media and circulation on WhatsApp.
Corn is a crop which has been gaining importance in India with changing food habits and the growth of its many ancillary uses. With support from the Government to improve the selling price of Corn, farmers will move towards use of better chemistry. Coragen® has been and will continue to be the first preference for any corn grower in India as the best solution available for managing FAW and other lepidopteran pests in Corn.